Haitianxiong Electronics Launches New Products with Rockchip: Dolphin 3399 Commercial Display/Android Smart Motherboard.
Dolphin 3399 Commercial display smart motherboard, with standard Mini-ITX motherboard design specifications, is a high cost-effective automatic display motherboard. Based on Rockchip new generation super performance RK3399 dual-core Cortex-A72 and quad-core Cortex-A53 application processors, frequency up to 1.8 GHz and 1.4 GHz respectively, with internal Mali-T864 GPUs, and perfectly supporting 4K and H.265 hard decoding.This motherboard integrated the functions of multimedia decoding, LCD driver , Ethernet, HDMI, WIFI, 4G / 3G, Bluetooth, audio, camera, serial port, USB, RTC, etc. Which also support for peripheral expansions.
Dolphin 3399 smart motherboard has significant advantages of stable and reliable industrial products performance as well as cost-effective and low power consumption. Equipped with Android 7.1 or Fedora Linux software operating system, this motherboard can be widely used in media player, digital signage, interactive advertising machine, large LCD Screen, communication control, medical equipment, industrial control, traffic control, information system, financial equipment, automotive, digital control, various terminal markets.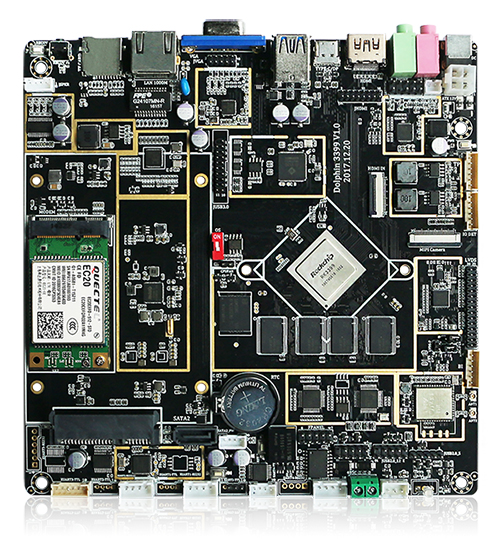 Dolphin 3399 link:http://en.nrisc.com/qiye/Product/wisdom/SmartBoard/104_51.html